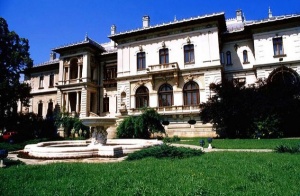 Cotroceni Palace (Romanian: Palatul Cotroceni) is the headquarters and residence of the President of Romania. It is located at Bulevardul Geniului, nr. 1, in Bucharest, Romania. The palace also houses the National Cotroceni Museum.
Cotroceni Hill was the place of residence of many of Romania's rulers for a time until 1883, when King Carol I of Romania received the residences and ordered them demolished with plans to build a much larger edifice in their stead which would serve to house the future heirs to his throne. Construction of this new royal palace was commissioned to begin in the year 1888, the project being placed under the direction of French architect Paul Gottereau.
During the rule of King Ferdinand I and Queen Marie, further improvements have been made to the royal palace. At the request of Queen Marie, the north wing of the palace was completed with the space that would be used to house the maids of honor and adjutants in duplex apartments of sorts. A gymnastics hall at the semi-basement was also built, taking up the space where it is assumed that a chapel would have resided on the ground floor. On October 1915, the space was refitted to accommodate central heating.
In 1976, during the regime of Nicolae Ceauşescu, the Cotroceni Palace once again changed its purpose after its transfer to the State Protocol (Protocolul de Stat). Its new function would be as a residential building — a guest house.
Since 1991, Cotroceni Palace has been the residence of the Romanian President. The National Cotroceni Museum is located in one wing of the palace open to the public.