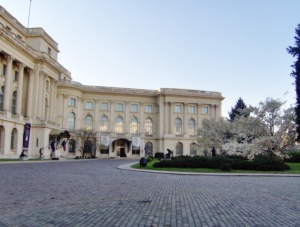 The National Museum of Art of Romania (Romanian: Muzeul Național de Artă al României) is located in the former royal palace in Revolution Square, central Bucharest, Romania, completed in 1837. It features notable collections of medieval and modern Romanian art, as well as the international collection assembled by the Romanian royal family.
In 2005, the National Museum of Art opened the exhibition Shadows and Light from 15 July to 2 October. Four centuries of French painting on exhibition turned out to be the largest exhibition of French painting shown in Central and Eastern Europe after 1945. 77 works were exhibited, including masterpieces of painters such as Poussin, Chardin, Ingres, David, Delacroix, Corot, Cézanne, Matisse, Picasso, and Braque.
The modern Romanian collection features sculptures by Constantin Brâncuși, Milita Petrașcu, and Dimitrie Paciurea, as well as paintings by Theodor Aman, Nicolae Grigorescu, Theodor Pallady, Gheorghe Petrașcu, and Gheorghe Tattarescu. The international collection includes works by Old Masters such as Domenico Veneziano, El Greco, Tintoretto, Jan van Eyck, Jan Brueghel the Elder, Peter Paul Rubens, and Rembrandt, plus a smattering of works by impressionists such as Claude Monet and Alfred Sisley. Among the most famous Old Master works in the collection are Jacopo Amigoni's portrait of the singer Farinelli, a Crucifixion by Antonello da Messina, and Alonso Cano's Christ at the Column.