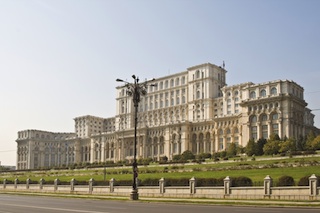 The Palace of Parliament (Romanian: Palatul Parlamentului) in Bucharest, Romania is a multi-purpose building containing both chambers of the Romanian Parliament. According to the World Records Academy, the Palace is the world's largest civilian building with an  dministrative function, most expensive administrative building and heaviest building.
Since 1996, the building has housed Romania's Chamber of Deputies, which had previously been housed in the Palace of the Patriarchy; the Romanian Legislative Council and the Romanian Competition Council.
The Romanian Senate joined them there in 2005, having previously been housed in the former Communist Party Central Committee building. The Palace also contains a massive array of miscellaneous conference halls, salons, etc. used for a wide variety of other purposes. There are public tours organized in a number of languages.